By Jena Griffiths | February 20, 2012
I've posted another free call with Richard Unger in Earth School's free auditorium.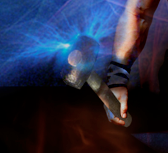 Click here to listen to the replay.
(Duration: 35 minutes)
(Log in first. It's a free call.
(If you can't find your Earth School password, ask for a new one and then wait a few minutes until it is sent to you. Please be patient and check your mail box. The system takes a couple of minutes to send you an email.)
Here's a video of the first half of this call.

Log into the free auditorium for the second half (audio) plus reference document.
What did we discuss?
We talked about hand shape and personality and how hand shape
changes as humanity changes.
Hand shapes that were common a hundred years ago now hardly exist.
Richard explains his thinking on the subject and his system of identifying archetypes.
We also discussed the first 3 of 16 archetypes that we'll be exploring in great detail over the coming months:
Which three?
Big Ideas
Hephaestus
The Ballet Teacher
Listen to this free call here.
Why is hand shape important?
Hand shape is the ultimate personality assessment tool.
It helps you narrow down life purpose and know yourself,
how you're wired, so you can increase your effectiveness
and create the outcomes you want in your life.
If you're a hand analyst, knowing these hand shape archetypes
helps you be much more effective at helping others.
The hand shape archetype series kicks off tomorrow.
We'll be discussing the archetype "Big Ideas" over two 90 minute calls.
21 February and 28 february. It's not too late to join us.
Register here.
« A brand new course by Richard Unger – advanced hand shapes – starts this coming Tuesday. | Home | Are you in the big gaping hole?
– 39 Steps to living on purpose »
Topics: Hand Analysis | No Comments »
Comments