By Jena Griffiths | March 14, 2021
I'm really concerned about the possibility and consequences of allowing deep sea mining of cobalt rich nodules on the ocean floor that are home to numerous species. Scroll down towards end of this interactive guide by the Guardian news. We don't know enough about this sensitive habitat and the consequences of destroying it.
Better venture capitalists fund explorations into space to mine astroids for the minerals than seek than reek havoc with our fragile and little understood ecosystems on the ocean floor.
More on this topic by David Attenborough. More by Chris Packham on why the seabed should be off-limits to mining companies.
Get involved – take action here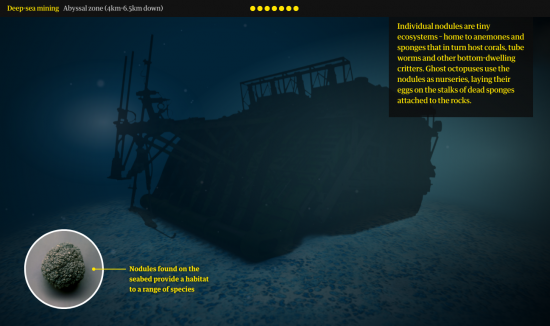 Image above from the interactive guide by the Guardian news
« What can we do to support life on our planet? | Home | Free calls with Richard Unger »
Topics: ecology and nature, Environment | No Comments »
Comments