By Jena Griffiths | August 29, 2012
A new series of calls starts in Earth School this week – Earth School Guides.
Who are the guides?
These are experts in various fields who are also skilled in hand analysis.
Our first call in this series will be with Kay Packard, founder and director of the American Academy of Hand Analysis.
We'll be exploring how you can use EFT (Emotional Freedom Technique) together with hand analysis.
In particular we'll be looking how you can use this technique to cut through issues that hold you back from living your purpose.
Replay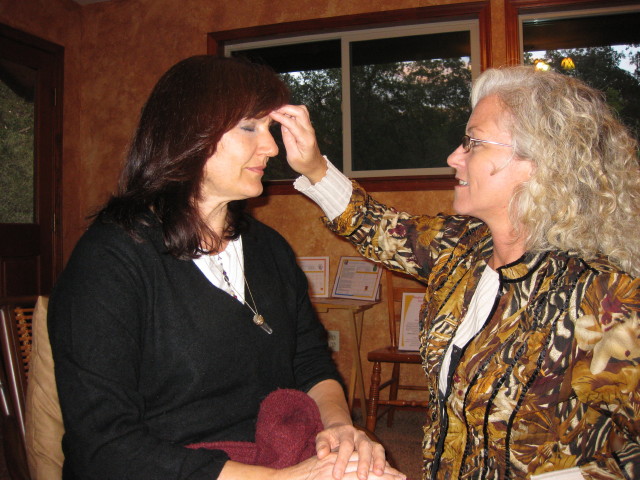 More about Kay Packard
Kay's study of hand analysis and intensive course work began in 2003. In 2005 she became certified to read hands and fingerprints from the International Institute of Hand Analysis (IIHA). After completing her first year of graduate studies with Richard Unger she began leading workshops and assisting year-long hand analysis study programs. After completing advanced studies in 2007 she became an Associate Faculty with the IIHA and taught the IIHA Intensive. In September 2010 she founded the American Academy of Hand Analysis where she created and teaches Level 1, 2 and 3 courses in the ancient art and science of Hand Analysis. She guides people to manifest their Life Purpose through integrating Hand Analysis and Emotional Freedom Techniques (EFT).
In June 2007 she began her rigorous studies of Emotional Freedom Techniques with Robin Duncan at Miracle Center of California. She earned her EFTCert-I in 2008 through Gary Craig's DVD training and certification program. She meets privately with clients, and with groups, to assist in the release of stress, anxiety, anger, fear, resentment, guilt and other barriers to optimal living.
As these two practices developed individually, she began to see a direct correlation between the core issues clients were reporting during EFT sessions and the life lessons etched in their fingerprints. Today, during EFT sessions, clients join Kay in reciting unique 'statements' to gently embrace their emotional issues and their life lessons. Results include immediate relief, peace, calm and self-acceptance.
Life purpose can truly be discovered, explored and illuminated through blending EFT and Hand Analysis.
Kay's website
Illuminating Life Purpose with Hand Analysis and EFT. Listen to the replay of this call.
« Life Purpose and the rule of Paradoxes | Home | The Validity of the Personality – next call with Richard Unger »
Topics: Hand Analysis | No Comments »
Comments