By Jena Griffiths | March 29, 2014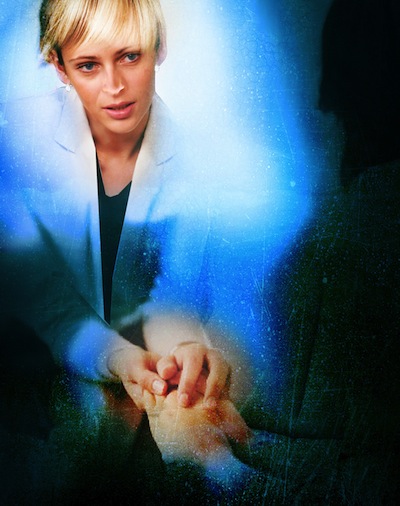 Are you a good listener, able to hold a space for others so that they can heal themselves? Or do you have healing hands?
What does it actually mean to be a gifted healer? This is the topic we'll be exploring this month in Earth School. On April 1, 2014 I'll be interviewing Richard Unger on the gifted healer marker. Richard was the first person to identify 17 gift markers that show up in our hands, indicating special abilities that need to be lived. The gifted healer was the first of the gift markers that he decoded nearly 50 years ago, by observing that the vertical lines operated like horizontals when the talent wasn't being used.
Where are these lines?
Look for them under your pinkie finger, above the first major line in your hand. (In other words, above your heart line.?
What do they look like?
Four or more short parallel stripes. The length of the individual lines isn't important but they need to be parallel.
Also note, they are not right at the edge of the palm but slightly in, starting about half a centimeter in from the outer side of your palm.
Here's a photo of their position and what they look like.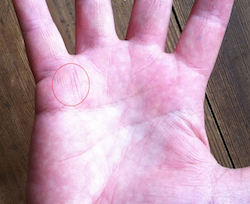 Read more about this gift marker here.
– an in-depth post I wrote a few years ago about this formation. Each stripe adds another level of healing power and responsibility.
Get the class on this marker, with Richard explaining his understanding of this marker, after more than 40 years of observing how it operates, in numerous people's lives, and in numerous different personality types. How can this talent be put to best use? What are the unique challenges and opportunities?
« Finding answers in trees | Home | The Expert type – advanced hand shapes class »
Topics: Gift Markers, Hand Analysis | No Comments »
Comments