By Jena Griffiths | May 3, 2013

Or in the words of Paul Coelho:
"Just as an acrobat flies easily through the air, success, when it comes, seems the most natural thing in the world.
"Meanwhile if anyone did dare to ask, the answer would be: I considered giving up. I thought God was no longer listening to me, I often had to change direction, and, on other occasions, I lost my way. Despite everything though, I found it again and carried on, because I was convinced there was no other way to live my life."
Paul Coelho – Manuscript found in Accra. p.129

"Every regret is due to a fear of failure."
I recently attended Failcon's first seminar in Zürich for entrepreneurs and startups.
Various speakers shared mistakes they had made in business.
The point made over and over was
to have success you first need to make a lot of mistakes.
Reminds me of something I wrote a few years ago titled
Can you do cartwheels?
The point in this story being that fear of making mistakes is the real show stopper.

One of the first speakers of the day, Deep Parekh, told a great story about his sailing instructor taking him out into the middle of the lake and immediately capsizing the boat. Nothing tops direct experience. And that's what most "failure" is – invaluable direct "learn by doing" experience.
Problem is that's not how it feels. There's a lot of shame and stigma attached to failing. The real danger is not learning anything. Not moving on.
And of course, not having the courage to make mistakes/suck/fail in the first place.

The main takeout of this day for me was the importance of not isolating oneself and getting feedback – not only from clients and from results but also from friends and colleagues and even – yikes, dare I admit this 🙂 – from family.
One of the many speakers who impressed me (and there were many) was Liam Boogar who writes a tech blog out of France called Rude Baguette. Liam spoke exactly to this topic, telling a heart wrenching story about business failure and his own personal regrets as an onlooker – about not giving feedback when it was due.
"We often say that choosing a co-founder is like marrying someone, but we miss the inherent inverse on that statement, which is that your spouse, and those close to you, become like co-founders as well, and they are the best source of constructive feedback, because they (should) have a very intimate relationship with you that allows for brutal honesty."

"If you're not asking for constructive feedback you're already failing." – Liam Boogar
Here's a slide show of Liam's key points in his talk "Failure by omission"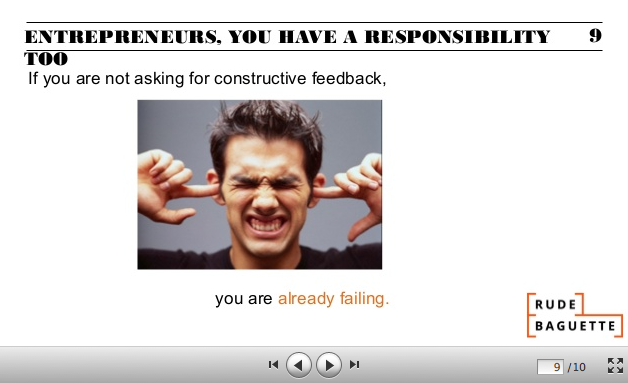 Some of the other "lessons" or reasons for not succeeding mentioned by speakers:
lack of focus
choosing the right staff/wrong partner
too much money too soon (expanding/diversifying/employing too many people too soon)
failure to recognize an opportunity
isolation
failure to truly innovate
not defining responsibilities
not being yourself
not being willing to suck in the beginning
quitting too soon
not quitting early enough! (if you aren't growing quit)
sometimes you only find the right path by taking the wrong one

William Kanaan of Google pointed out that entrepreneurs are by nature more risk tolerant than the most and, because of this, it's hard to see when you should actually bail out on a project. He cited himself once having maxed out his credit cards and was still feeling fine. Fortunately a friend advised him to go get a job before it was too late.

Update – you can now view videos of all the talks here.

All in all it was a really successful, well organized event with generous catering all day long and even into the evening.
I met a lot of really interesting people and look forward to attending again next year.

Here's a list of the rest of the speakers and what they discussed.
You can find out more about each of them here
Troubleshooting Failure: Building a Resilient Entrepreneur
Deep Parekh – Geneva
How the Swiss perfectionist 'syndrome' leads to a larger fear of failure
Sandrine Szabo – Geneva
Quitting, 'sucking', and failing your way to a better life
Michael Wolfe – San Francisco
Failure as a requirement for successful startup eco-systems
Marcus Kuhn – Zurich
3 x (virtually) broke – and still going
Dorian Selz – Zurich
Amazee 2 Amazee Labs
Dania Gerhardt – Zurich
Fail Forward >> Nine Notions of Innovation
William Kanaan – Zurich
skim.com – the story of a failure, lessons learned
Balz Roth – Zurich
Morning Panel: Finance & Failure: Investor perspectives.
Afternoon Panel: Why failure is a stigma in Switzerland
Here are some great tips from Lolly Dascal (of lead from within) on turning mistakes into lessons.
« Hot Ideas – next advanced hand shape archetype class | Home | Are you guilty? »
Topics: Fear of success/ fear of failure, What's on in Zurich | 2 Comments »
2 Responses to "Is failure a mistake?"
Bonnie Stanford Says:
May 7th, 2013 at 11:14 pm

Hi Jena!
What a fantastic and motivating article!
Love, Bonnie Stanford

Jena Griffiths Says:
May 8th, 2013 at 7:15 am

Thanks Bonnie!
Love, Jena
Comments