By Jena Griffiths | May 9, 2012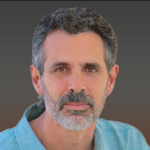 Our free auditorium call with Jitendra Darling is today, May 9 2012 at 11am Pacific, 8pm Swiss/Central Europe. Elsewhere
Being the Change, Transforming our Economy
Simply go to the free auditorium to attend.
Replay is here
What will we discuss?
Jitendra will share is warm eyes meditation with us which he says will help us connect with each other on a deeper, more profound level.
During the call, Jitendra will address the challenge of achieving radical systemic change in our world, from economics to social justice to how we treat our planet. With countless initiatives and almost as many debates attempting to sort out the best pathway to a just and sustainable future, there is a less obvious, yet critical, element necessary for the magnitude of transformation envisioned––the endemic shock that separates us from our full human potential for empathic connection.
Jitendra describes how this mechanism works and how it affects every relationship we can imagine, including the systems that surround us. He will also share a simple and direct practice with which each of us can strengthen and deepen the dignity of human our presence that will ultimately unite us in ways we so often dream and imagine.
Who is Jitendra?
Jitendra has been devoted to spiritual transformation for nearly 40 years. He is a spiritual teacher, shaman and channel for embodied awakening; founder of Core Awakening Journey, an evolutionary mystery school; Global Heart Initiative, a new program designed to build common ground in communities and organizations in order to facilitate broader and more effective collaborations among diverse stakeholders.
Jitendra created Core Awakening Journey as a pathway for others to benefit from his life journey that ranged from abuse survivor to spiritual enlightenment to emotional breakdown to shamanic descent into emergence in a new kind of integrated, embodied awakening.
He also co-founded OccupyCafe.org, a global online social network forum.
« desires vs needs | Home | Replay of interview with Jitendra Darling – Being the Change, Transforming our Economy »
Topics: Being in transition, rollercoaster life | No Comments »
Comments