By Jena Griffiths | October 26, 2010
As a kid I remember spending hours studying the work work of Hieronymus Bosch. Especially his Garden of Earthly delights.
This piece is so poignant:



The sharp knife of interpretation

Why?
Everything in this world hinges on interpretation and resulting energetic vibration.
Or as Spike Milligan puts it:
Bump
Things that go 'bump' in the night
Should not really give one a fright.
It's the hole in each ear
That lets in the fear,
That, and the absence of light!
Spike Milligan
The Four Hells on Earth
The ear is the doorway in and out of the 4 hells on Earth
because this is where changes in interpretation first come in.
These hells are created by thought….

Okay, I'll admit it…
Maybe I just have a thing about ears.
Come to think of it, here's a self portrait. Painted in 2009.
To remind myself of the art and skill of listening.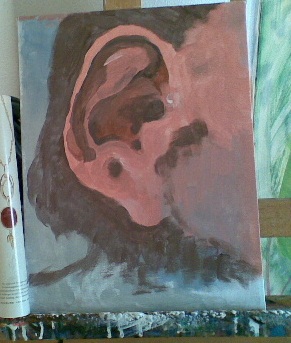 But then strangely, here's a section of my vision board from a few months before Earth School was created:
Scores of tiny ears inside an ear! Talk about manifestation….
So what?
Be very careful what you put on your vision board – chances are you'll get it!
🙂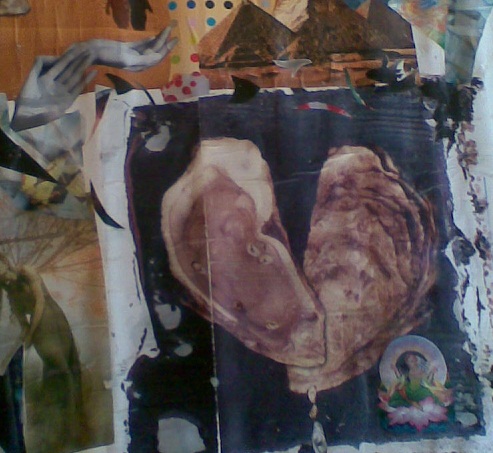 So why hand analysis classes inside Earth School?
Hand analysis is the most powerful self help/self inquiry/ self transformation tool I have ever come across.
It helps you know yourself better and also see your life through the lens of your soul purpose.
Your fingerprints are the key to navigating out of the 4 hells. They help you change your vibration by changing your interpretation of events so that you no longer feel like a victim of circumstance or a judge but rather a playful co-creator in the grand scheme of things.
Seeing this shifts you in such a big way. Consciously managing your emotions around your thesis in Earth School is is your contribution to the evolution of human consciousness.
Understanding your soul contract, and learning to love and support yourself and others as a result, is the long term project of Earth School.
Register on the right for all the interviews in the free auditorium.
These calls are with wise souls or teachers whom I admire.
People who can help you get out of whatever hell on Earth you're in.
Often they have nothing to sell. No follow up workshops etc etc.
For example, the free call with one of Europe's top psychiatrists,
Dr Raffaella Ada Colombo, who is also a trained Jungian analyst and in charge of a psychiatric hospital in Italy. She also lectures regularly at ISAP, the International School of Analytical (Jungian) Psychology in Zurich. Or the call with Byron Katie on how to stop torturing yourself.
You can listen to what many wise souls have to say and even ask questions before the call. The links to her call are in the free member's zone. The replays are freely available in Earth School permanently. Click here to access these interviews
For free calls with Richard Unger related to life purpose in your fingerprints register here.
« Interview with Dr Raffaella Colombo confirmed for Sunday 31 Oct | Home | False hope vs clear vision »
Topics: Fun, General | No Comments »
Comments