Maypole meditation with Phyllis Krystal
INTERVIEW WITH PHYLLIS KRYSTAL
Back to rest of Earth School
---
The following two interviews took place with Phyllis Krystal in 2012 when she was 98 years.
Listen to our first call below.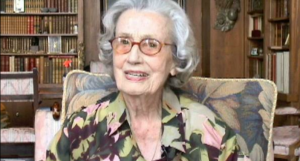 98 years young and still going strong
Phyllis walked us through all the steps of the Maypole
to connect with one's own higher wisdom.


This call above is 1 hour long.
Below is a shortened version of the call to use as a guided meditation
Download Phyllis's Maypole exercise here without our conversation. (The meditation is 22 minutes)

If you would like to thank Phyllis for this fabulous meditation make a donation to one of her foundations.
Thanks.
Foundations and the continuation of her work
There are two foundations in her memory.
One created by her family in memory of both her and her husband Sidney:
https://spk.foundation/
And one created by her students in Europe who were formally trained in her method and continue to practice and teach her method. https://www.phylliskrystal.com/
---
First interview with Phyllis
The original interview I did with Phyllis at her home in Zürich, Switzerland in early June 2012 is also available on this site.Access the recording here.
In this first call we discussed how she got started, tai chi, her diet and how she survived a hijacking experience over the North Sea….
---
Re Further calls:
Due to pollen and other allergies and the erratic quality of her voice, Phyllis decided that making a commitment to weekly calls was too stressful for her at age 98.
If you'd like to learn to use her figure of eight cutting ties technique read Phyllis's books to learn to use this technique effectively. Or take a course from one of her certified instructors.
The system is very effective but you need to do the work and follow the method as she was given it.
Her Cutting Ties workbook as this gives the exact wording to use for cutting rituals or find a practitioner trained in her method.
This pack of 15 cards include all the symbols used in Phyllis's work. They are very powerful visual tools. Search for them online.
More about Phyllis Krystal
Phyllis Krystal lived until the age of 102 years and 7 months.
May 11, 1914 – December 10, 2016.
She completed two more books in her final year:
a book of poems to her guru called little gems from Baba
and
Her last book completed age 102
The Flight of the Phoenix to Liberation
is about aging and dark night of the soul.
Phyllis Krystal's work after age 90
Her husband Sidney, born 1907 died in 1993, aged 85, was +7 years older than Phyllis. Sidney left his physical form when Phyllis was 79.
Eleven years after his passing, in 2004, at age 90, Phyllis moved from the US for Europe to continue her work based in Germany (where most of her students lived). 5 years later she moved to Switzerland (2009-2014) first to Wetzikon (where no-one spoke English) and then to Zollierberg near lake Zurich
before finally moving to UK at age 102, settling in Surrey, England, in 2014 where she wrote her last two books.
More about her guru Sri Sathya Sai Baba
Phyllis wrote a few books about her relationship to her teacher, Sri Sathya Sai Baba (Nov 23, 1926 – April 24, 2011)
One was a book of poems titled Little Gems from Baba, first published in 2016 when she was 102.
Phyllis said he visited her after his death (2011) and whenever he was present she could smell his scent.