By Jena Griffiths | March 17, 2020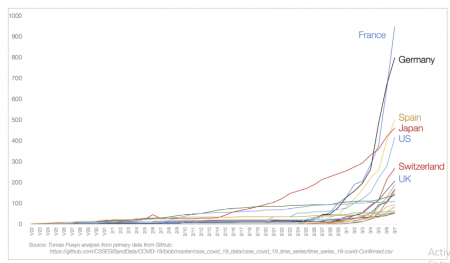 Post updated 27 March: you can now test yourself with a Bosch Healthcare app
The idea below of rapid testing comes from a German friend who looked at how South Korea managed to halt their exponential spread quickly through mandatory testing.
He ask: What if this could be done in minutes? Starting at all border posts and airports.
Then extending testing to all major exits from cities as was done in South Korea.
Text below translated from German by Google. Original German text follows.

Constructive handling of the new Covid-19 Coronavirus
March 16, 2020
In South Korea, the number of new cases continues to rise only slightly. The exponential function is currently stopped.
Why not in Germany?
According to the daily TAZ, South Korea has been extremely successful in containing the outbreak of coronavirus by allowing everyone to take their test quickly, sometimes even on motorway exits from major cities; this for free. The result will then be sent to him via SMS. Unnecessary quarantines are largely eliminated, even symptom-free patients are recorded in this way and flu can be immediately distinguished from the novel coronavirus.
The daily mirror from 06.03. 2020 reports there's a company that sells this test inexpensively.
When three medically trained specialists for taking samples and collecting patient data work in such a way that 2 patients are checked every minute and then informed, this is a great challenge. But feasible and not only affordable, but also very people-friendly. No unnecessary uncertainty.
A simple counter-calculation: 50 million infected people from Germany in 400 days until the vaccine. That is an average of 125,000 people infected per day, around 37,500 deaths per day and costs in the 8 to 9 digit range per day. Horror numbers? No math.
Original German text
Stand 16.03.2020
In Südkorea steigt die Zahl der Neuerkrankten auch weiterhin kaum noch an. Die Exponentialfunktion ist zur Zeit gestoppt.
Warum nicht in Deutschland?
Laut der Tageszeitung TAZ dämmt Südkorea den Coronavirusausbruch äußerst erfolgreich dadurch ein, dass jeder schnell, teilweise sogar an Autobahnausfahrten aus Großstädten seinen Test machen kann; dies kostenlos. Das Ergebnis wird ihm dann per SMS mitgeteilt. Unnötige Quarantänen fallen so zum größten Teil weg, auch symptomlose Kranke werden so erfasst und Grippe kann vom neuartigen Coronavirus sofort unterschieden werden.
Der Tagesspiegel vom 06.03. 2020 berichtet von der Tempelhofer Firma TIB Molbiol, die diese Test für 2,50€ verkauft.
Wenn drei medizinisch ausgebildete Fachkräfte für das Nehmen der Proben und Erfassen der Patientendaten so arbeiten, dass je Minute 2 Patienten kontrolliert und dann verständigt werden, ist dies eine große Herausforderung. Aber machbar und nicht nur bezahlbar, sondern auch sehr menschenfreundlich. Keine unnötige Unsicherheit.
Eine einfache Gegenrechnung: 50 Millionen Infizierte aus Deutschland in 400 Tagen bis zum Impfstoff. Das sind im Schnitt 125000 Infizierte pro Tag, etwa 37 500 Tote pro Tag und Kosten im 8 bis 9 stelligen Bereich pro Tag. Horrorzahlen? Nein Mathematik.
Wer diesen Gedanken zustimmt:
Das Zeitfenster ist sehr eng
Bitte den Inhalt dieser Email weitergeben.
Bei den zuständigen Landtags und Bundestagsabgeordneten nachfragen. Bei den zuständigen Bundes und Landesministerien nachfragen.
In den sozialen Medien weiterleiten.
Mit freundlichen Grüßen
« storing carbon in the sky – as skyscrapers | Home | How to strengthen your immune system »
Topics: Fear, Health | No Comments »
Comments