Hand Analysis business tutorial with Anuradha Kowtha
Oct 13, 2015
In this webinar Jena Griffiths interviews Anuradha Kowtha, CEO of Manifest By Design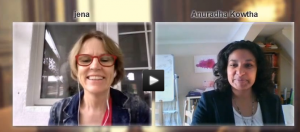 Maximize Profitability: Using What's In Your Hands
What will Anuradha cover?
– ways of integrating hands into your new or existing business
– How to improve your ROI, ROR and maximize your profitability immediately
– ways to communicate with current and potential clients more effectively
– how to protect your business and family assets
Part 1 of this series
Anuradha interviewed Jena on empowering yourself and others through hand analysis.

---
Other interviews by Jena Griffiths
Access all the interviews in the Open Auditorium here.
Register for updates on forthcoming calls.